Latin name: Apium graveolens

🌱 Days to Sprout: 14-30
😋 Plant food: after true leaves
✂️ Thin to: 1 plant per yCube
🍅 Days to Maturity: 75-100
💡 Light Zone: Moderate
📏 Plant Size: 1 ft
💚 Care Level: Intermediate
Origin
Native to the Mediterranean and China, Celery leaves and flowers were part of the ornamental garlands in the Ancient Egyptian tomb of Pharaoh Tutankhamen. Beyond culinary uses, Celery seed has also been used medicinally since antiquity as a remedy for pain.
Qualities
Celery is high in potassium and contains significant quantities of sodium and calcium. It is also rich in antioxidants and the flavonoid Butylphthalide. Celery contains compounds shown to help hypertension and exhibit neuroprotective qualities.
Note: The natural oils from celery leaves can, in rare cases, cause a skin rash. To protect yourself, wear long sleeves and/or wash exposed hands and arms after handling.
Use
Celery is primarily cultivated for its stalks, which serve as a staple ingredient across cultures and cuisines. The French culinary flavor base mirepoix leans on celery as a pillar alongside diced onion and carrot, and it has served as a foundation for western soups, stocks, stews, and sauces. Try adding the leaves to boost celery flavor in tuna salad, pastas, and potato salad.
Care & Harvest
💡Temperature: Prefers cooler temperatures (70-75°F).
✂️ Pruning: Check the roots monthly and trim any that are brown or extending past the yPod.
🌱 Harvest: Wait to harvest stalks at the base until they're around 6 inches tall. You can harvest just the leaves earlier, but be sure to leave ⅓ behind to let the stalks continue growing.
Harvest To Plate Recipe
Sautéed

Celery with Leeks & Mushrooms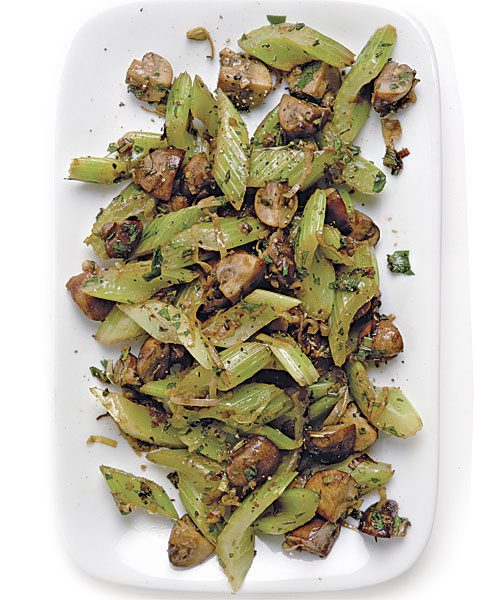 Photo / Recipe Source: Fine Cooking
Ingredients
2 Tbs. extra-virgin olive oil
1 medium leek, halved lengthwise and thinly sliced crosswise (white and light-green parts)
Kosher salt
8 oz. cremini (baby bella) mushrooms, quartered
6 medium celery stalks, sliced 1/2 inch thick on the diagonal
1 Tbs. fresh lemon juice
1-1/2 tsp. finely chopped fresh Rosemary
1 tsp. chopped fresh Sage
2 Tbs. chopped fresh Parsley
Freshly ground black pepper
2 Tbs. lower-salt chicken broth, broth of choice, or water
Instructions
Heat a 12-inch skillet over medium heat.
Add the oil, leek, and a pinch of salt. Cook, stirring often, until just tender, 3 to 4 minutes.
Add the mushrooms and a pinch of salt and cook until the mushrooms are lightly browned and tender, 4 to 5 minutes.
Add the celery and a pinch of salt and cook until crisp-tender, 5 to 8 minutes.
With a wooden spoon, stir in the lemon juice and scrape up any browned bits from the bottom of the pan.
Stir in the rosemary and sage and cook until fragrant, about 1 minute.
Stir in the parsley and season to taste with salt and pepper.
Transfer the mixture to a bowl.
Return the pan to medium heat, add your broth or water, and scrape up any remaining bits.
Let the liquid reduce by half, and then pour over the celery. Serve immediately.
Our Plant Health & Nutrition Team thoroughly tests each variety we offer to bring you the most flavorful and high-quality plants. We regularly rotate our plant portfolio, so please note, availability varies.