Latin name: Beta vulgaris var. cicla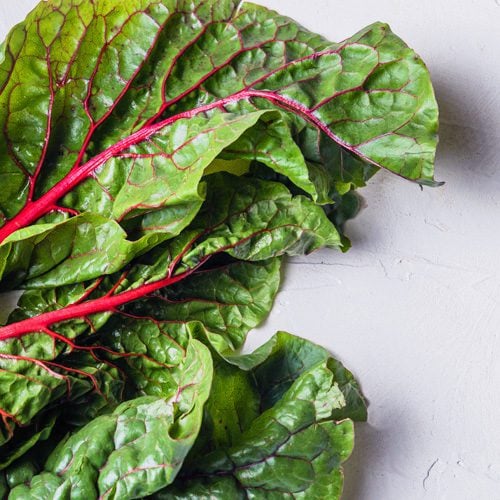 🌱 Days to Sprout: 7-21
😋 Plant food: after true leaves
✂️ Thin to: 1 plant per yCube
🍅 Days to Maturity: 32-60
💡 Light Zone: Moderate
📏 Plant Size: 1 ft
💚 Care Level: Beginner
Origin
Also known as Silverbeet, Spinach Beet, Crab Beet, Seakale Beet, and Mangold, this leafy vegetable is in the same species as the garden beet. Swiss Chard, however, lacks the familiar, edible beetroot. The word "Swiss" was first used to differentiate chard from French spinach varieties by seed catalog publishers in the 1800's, but the plant's origin has been traced to Sicily.
Qualities
Swiss Chard has beautiful green leaves with bright red stems and veins - even its roots are magenta! Both the leaves and stems are edible and have an earthy-sweet taste with some bitterness. It is loaded with vitamins A, C, and K, phytonutrients, and fiber. Phytonutrients are known to protect against cataracts and macular degeneration. Swiss Chard also has high levels of the minerals iron, magnesium, phosphorus, potassium, and calcium.
Use
Considered a favorite leafy green because of its color and versatility, enjoy the whole plant raw or cooked like spinach. Fresh Swiss Chard is great in salads, and the stems can be used like celery. Though cooking reduces some nutrient levels, it also helps remove the bitterness if Swiss Chard's raw flavor isn't to your taste!
Care & Harvest
💡Temperature: Prefers cooler temperatures (60-70°F).
✂️ Pruning: Check the roots monthly and trim any that are brown or extending past the yPod.
🔎 Plant Health: Aphids are a common pest, but you can use our prevention and treatment tricks to keep pests at bay!
🥬 Harvest: For ongoing harvest, snip the outer leaves just above the base of the plant once they reach 2-3 inches tall to let the inner leaves continue to grow. Leave 1/3 of the plant if you want it to keep growing. To harvest the full head, wait until it reaches maturity, then harvest from the base.
Harvest To Plate Recipe
Wilted Swiss Chard with Shallots & Vinegar
Photo / Recipe Source: Bon Appetit
Ingredients
1 bunch Swiss Chard, ribs and stems separated from leaves
2 tablespoons olive oil
2 large shallots, thinly sliced into rings
2 garlic cloves, grated
Kosher salt
2 teaspoons Sherry vinegar or red wine vinegar
Instructions
Chop Swiss Chard stems and leaves into small pieces. Rinse with water, leaving some water still clinging to the leaves.
Heat oil in a large skillet over medium-high. Add the Swiss Chard stems, shallots, garlic, and season with salt. Cook, stirring occasionally until the stems are starting to soften but haven't taken on any color, about 2 minutes.
Add Swiss Chard leaves, season with salt, and cook, tossing occasionally, until leaves are tender and have released some liquid, about 3 minutes (stems will still have a bit of crunch).
Mix in vinegar; taste and season with more salt if needed.
Our Plant Health & Nutrition Team thoroughly tests each variety we offer to bring you the most flavorful and high-quality plants. We regularly rotate our plant portfolio, so please note, availability varies.